Classroom Saint
Saint Ignatius of Loyola
Prayer to St. Ignatius of Loyola
Dearest Lord,
teach me to be generous;
teach me to serve You as You deserve;
to give and not to count the cost,
to fight and not to heed the wounds,
to toil and not to seek for rest,
to labour and not to ask for reward
save that of knowing I am doing Your Will.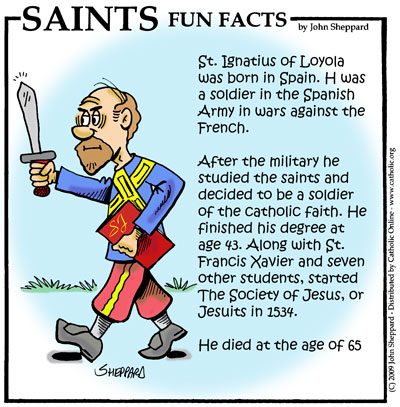 Born Inigo Lopez de Loyola in 1491, the man known as Ignatius of Loyola entered the world in Loiola, Spain. At the time, the name of the village was spelled "Loyola," hence the discrepancy. Inigo came of age in Azpeitia, in northern Spain. Loyola is a small village at the southern end of Azpeitia.
In 1521, while defending the town of Pamplona against French attack, Ignatius was struck by a cannonball in the legs. One leg was merely broken, but the other was badly mangled. To save his life and possibly his legs, doctors performed several surgeries. There were no anesthetics during this time, so each surgery was painful. Despite their best efforts, Ignatius' condition deteriorated. After suffering for a month, his doctors warned him to prepare for death.
On June 29, 1521, on the feast of Saints Peter and Paul, Ignatius began to improve. As soon as he was healthy enough to bear it, part of one leg was amputated which while painful, sped his recovery.
During this time of bodily improvement, Ignatius began to read whatever books he could find. Most of the books he obtained were about the lives of the saints and Christ. These stories had a profound impact on him, and he became more devout.
One story in particular influenced him, "De Vita Christi" (The life of Christ). The story offers commentary on the life of Christ and suggested a spiritual exercise that required visualizing oneself in the presence of Christ during the episodes of His life. The book would inspire Ignatius' own spiritual exercises.
Ignatius realized he needed to obtain a complete education if he wanted to convert people. Returning to Barcelona, Ignatius attended a grammar school, filled with children, to learn Latin and other beginning subjects. He was blessed with a great teacher during this time, Master Jeronimo Ardevol.
After completing his primary education, Ignatius traveled to Alcala, then Salamanca, where he studied at universities. In addition to studying, Ignatius often engaged others in lengthy conversations about spiritual matters.
These conversations attracted the attention of the Inquisition.
In Spain, the Inquisition was responsible for ferreting out religious dissent and combating heresy. The Inquisition was not as it has long been depicted in the media.
The Inquisition accused Ignatius of preaching without any formal education in theology. Without this training, it was likely that Ignatius could introduce heresy by way of conversation and misunderstanding.
Ignatius was questioned three times by the Inquisition, but he was always exonerated.
Ignatius eventually decided he needed more education, so he traveled north, seeking better schools and teachers. He was 38 years old when he entered the College of Saint Barbe of the University of Paris. This education was very structured and formalized. Later, Ignatius would be inspired to copy this model when establishing schools. The ideas of prerequisites and class levels would arise from the Jesuit schools, which here heavily inspired by Ignatius' experience in Paris.
Ignatius earned a master's degree at the age of 44. When he subsequently applied for his doctorate, he was passed over because of his age. He also suffered from ailments, which the school was concerned could impact his studies.
Today, the Society of Jesus is known for its work in educating the youth around the world. Several universities have been founded in the name of Ignatius and in the traditional Jesuit spirit. The Jesuits also perform many other important works around the globe.
Ignatius' passed away on July 31, 1556, at the age of 64. He was beatified by Pope Paul V on July 27, 1609 and canonized on March 12, 1622. His feast day is July 31. He is the patron saint of the Society of Jesus, soldiers, educators and education.
(http://www.catholic.org/saints/saint.php?saint_id=56)